"Wolfrack likes to run around the pastures and destroy things with its rock solid fists."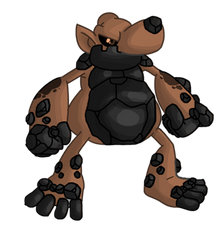 Description
Edit
Song a woooa a woooa a woooooooooa
Edit
Breeding
Edit
Wolfrack can be bought in the market for 600 C. Wolfrack has a big rack as you can see from the name.
It can also be bred by a failed combination between Wolfrack and another monster.
Name Origin
Edit
Wolfrack is a combination of the words "wolf", meaning a wild carnivorous mammal of the dog family, and "frack", meaning extract by injecting liquid into a subterranean rock formation at high pressure.
This is the second single-element Earth Monster.