"The Omnom is a strange monster, as it can breed with anything to create any monster."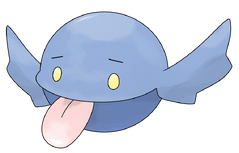 Description
Edit
Omnom sings in Bone Island "Ah, Yiah, Ya Ya Ya Yoh!".
Breeding
Edit
This monster can be bought for 100 diamonds and can breed with any monster. However, the rates for all monsters are different.
It was made by SmileyFakemon, then stolen by Woof, then Smiley making a V2 of it, Woof was super jelly.