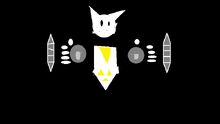 Nothing has shocked the monster world more than the discovery of the Atlas which has been noted as the last celestial. It holds the powerful elements of both Light and Galactic which were both originally thought to be gone from the monster world. It's name actually fits its personality as it has mass knowledge of the islands and the events that ended the Electricity and Fire eras. It even has a rare.
As seen in the description, it has the elements of Light and Galactic.
The monster appears in My Singing Monsters: Electric Years and My Singing Monsters: Super Jams.
This Monster is made by Geno10/Darkhood Terrace/Geno Games.
The instrument is similar to Jeeode.
Starhedge
Edit
Ding, Ding, Ding, Ding, Ding, Ding, Ding, Ding, Ding, Ding, Ding, Ding, Ding, Ding, Ding, Ding, Ding, Ding
Gold Island
Edit
Ding, Ding, Ding, Ding, Ding, Ding, Ding, Ding, Ding, Ding, Ding, Ding, Ding, Ding, Ding, Ding, Ding, Ding, Ding, Ding, Ding, Ding